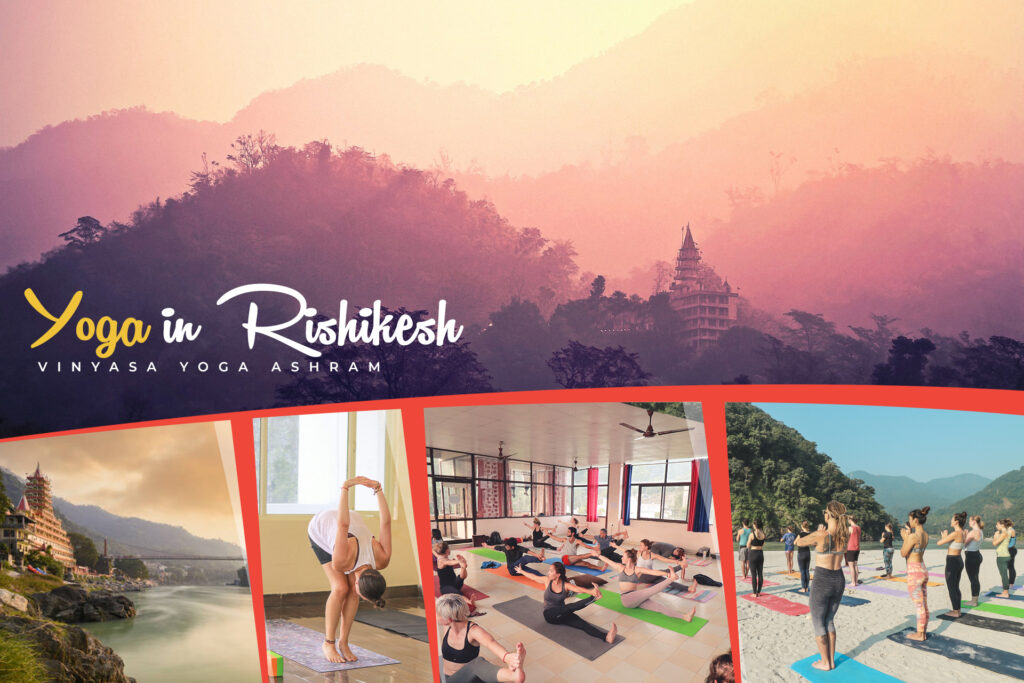 Why Yoga in Rishikesh?
Rishikesh is a spiritual hub and is an embodiment of India's ancient deep-rooted culture. There are many places around Rishikesh where the spiritual vibrations are at the peak which are created by the deep sadhanas(meditation) performed by ancient sages. One of such places is Vashisht cave, where sage Vashisht who is one of the Sapta Rishis (7 great saints) meditated for a long time. The spiritual energy of this cave attracts many visitors who seek for deep meditation in Rishikesh. Here, one can immerse oneself in the beauty of nature as it is surrounded by majestic green mountains, beautiful waterfalls and the mesmerizing turquoise blue ganga river flowing all across the town. These picturesque landscapes posses the charm to sooth one's soul which is hard to find in city's hustle bustle life. This place offers a plethora of learning opportunities for the one who is seeking spiritual evolution in life like yoga, meditation, Ayurveda, Pranic healing, sound healing and the list goes on.
Yoga is finding the stillness in all the senses by controlling the mind and Rishikesh is a perfect place where the name itself means "Lord of senses".  It is said in Skanda Purana that Lord Vishnu appeared here to Raibhya Rishi as Hrishikesh, which means "God of senses". Besides, the serene and peaceful surroundings and highly spiritual vibrations of this place makes it conducive for the yogic practices for someone who is seeking to experience solitude, tranquility and self-transformation. Yoga in itself is a vast subject and Rishikesh, also known as "Yoga capital of the world" has a lot of ashrams and schools that offers great learning opportunities in this field which includes  yoga philosophy that covers the knowledge downloaded from our great saints, meditation techniques that helps us to be more grateful towards life, pranayama which teaches us to be more aware of our breath, Shatkarma practices which helps in cleansing the body from within, yoga anatomy that explains the science behind every asana and breath work and pre and post-natal yoga which provides great insights of ancient garbha sanskara from the Garbaupanishads. So, if you are an aspiring or passionate Yogi, Rishikesh is the perfect place to gain all the knowledge that you seek.
What is the Importance of Yoga in Our life?
The benefits of Yoga are endless and varies for every individual based on the consistency and discipline of practice. Some of the key benefits are as mentioned below:
Releases the stiffness from our muscles and our mind, which is very much required in the current sedentary lifestyle that most of us follow.
Helps us to be more aware of our breath, as we are never mindful of how we breathe and end up breathing shallow.
Asana, Pranayama and meditation is a very effective way of dealing with host of health problems which includes migraine, depression, thyroid problems etc.
Consistent practice will help to boost the immune system.
The yogic kriyas will help in cleansing and detoxifying the body from deep within.
Reduces stress, improves concentration and brings a sense of peace and calm with in.
Why Yoga Teacher Training Course?
Every passionate Yogi would inevitably have the curiosity to do the Yoga Teacher Training Course. For some, it might be a stepping stone to their Yoga career as a teacher or therapist and for others it might be just to learn more about yoga and be a better practitioner. Finding a right teacher training course can be the most magical experience in one's life. It is so much more than perfecting asanas. It could be actually life changing, as it unfolds some of the deep hidden secrets of cosmic law through the knowledge of yoga philosophy.
Yoga teacher training course in Rishikesh at "Vinyasa Yoga Ashram" in Tapovan, Rishikesh is a great platform to gain this knowledge from the best teachers and is applicable for everyone right from beginners to the advance practitioners.
The mission of the Vinyasa Yoga Ashram in Rishikesh is to promote yoga and its philosophies, the only objective of building vast centre is just to provide a space where people can learn yoga, meditation and practice self-awareness to awaken their souls with a focused approach. The ashram has been offering yoga classes in Rishikesh for a long time and established itself as one of best yoga schools in India. International students come in large numbers to study yoga and to purify their souls. The TTC courses are segmented as 100 / 200 / 300 / 500 hours keeping in mind the level of students. It also offers pre and post natal TTC course which beautifully covers the asanas, meditation and pranayama during the different stages of woman's life, right from her birth to menopause.
A great teacher is someone who empowers you with the knowledge and information and allows you to choose your own path. In Vinyasa Yoga Ashram, we have the right blend of highly qualified yog – gurus who will help and guide you at every stage of your yogic journey.
Below is a quick introduction of our team
Ajay Dhasmana : Founder of Vinyasa Yoga Ashram and a great inspiration to all the teachers. His aim is to spread yoga for the overall health and wellbeing
Pradeep Singh : Ashtanga vinyasa, Anatomy and Alignment instructor Certified ACMS and ACE in functional and Prehab training
Ram Negi : Teaching methodology, Ashtanga and Vinyasa instructor. Gold medalist in Yoga championship
Ashish Gunsola : Vinyasa and Alignment instructor. Also an expert in Hatha vinyasa flow and mantra chanting
Parveen Sharma: Meditation, Pranayama and Pre/Post Natal instructor.
Bhaesh Bhimanathani: Yoga Philosophy and Meditation. Certified by reputed institutions like Kaivalyadham and Swami Rudradev Yoga centre.
Rajesh Rawat: Vinyasa flow and Asana instructor. Expert in Hatha Yoga and mantra chanting
So why wait? Come join us in this beautiful journey of self-development and experience the positive transformation of your life
Video - Yoga in Rishikesh
Student Reviews - Yoga in Rishikesh