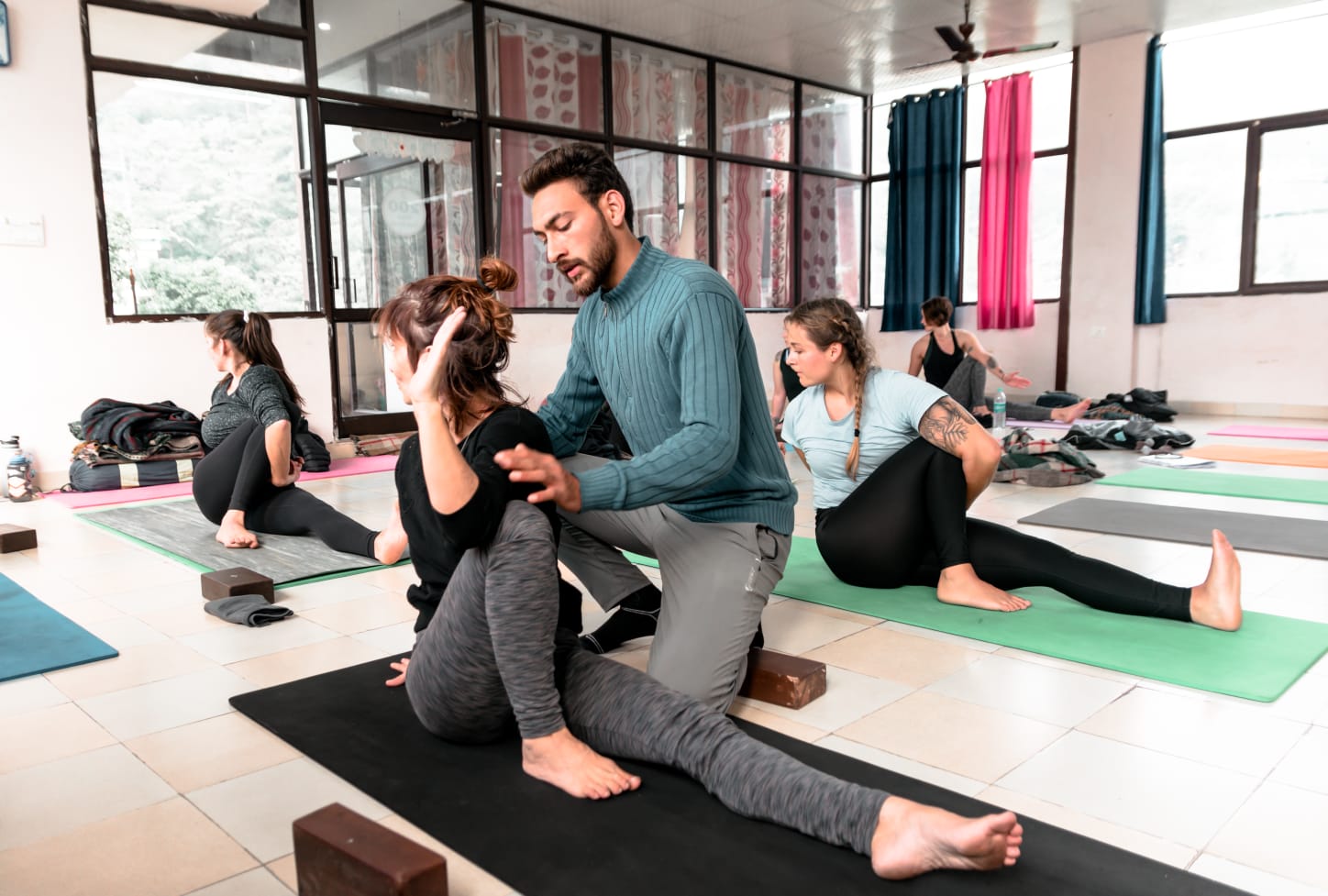 My yoga journey started a bit more than half a year ago. As I came home from a 6 months trip to Europe, I was entering slowly in a "dolce far niente" mood. I felt my mood was shifting from being positive towards indifference. And don't think that I reach the stage of Holy Indifference. It was just pure indifference towards anything that surrounds me, my body also started feeling really weak.
 One day though, as I was browsing on Instagram, I saw a post of a friend of mine who is a teacher in a yoga studio. The next day I was already equipped for the yoga session. When we met, she was surprised, as she gets a lot of inquiries from friends, but few actually join. It was an incredible month. I felt my body coming alive, my neck pain and back pain diminished in intensity. My mood was rising again. I had one of those moments when I realized that "This" I want to keep in my life, This being the practice of yoga.
Next month I've started my 6 months travel in Asia. For a couple of months, I've kind of neglected my promise of Yoga until I've reached Vietnam, and in HCMC I've stayed for a month and joined a yoga studio again, almost every day, and I felt good, not just physically, but also mental. I felt calmer, more compassionate. Yet there was something strange being a newbie and going to a drop-in class, as I didn't know the asanas, and didn't know the difference between yoga styles. Then I took the decision to do a YTT certification class, as I wanted to do the things right from the beginning, plus if starting teaching is also an incentive for me to be in the best shape, physically and mentally and not to take the practice easy.
On my next destination in Cambodia, after a crazy night in the hostel in Phnom Phen, I took the decision to go for a retreat, as I want to make different decisions for my life. I've joined the Yoga Barn in Kampot for 1 week. Sarah the owner has an amazing program that took me through different approaches to yoga, meditation. Then I start to feel a bit more about the complexity of the yoga ecosystem. I was already searching for a YTT certification for weeks, my initial plan was to do it in Thailand, but something in me was telling me, no, yet my mind was still pushing for this. I went to Thailand, yet I didn't book any YTT courses, for some reason, I couldn't do it. One night as I was meditating, one thought came to my mind, Alex what do you want? Do you want the nice and fancy beaches, or do you want to work your ass off and learn yoga. If you want fancy beaches, you can always go for that, but if you want yoga, then go with full energy. Then I start feeling that maybe it is not the right decision to book it in Thailand. Then I start thinking of India, my heart just blossoms to that thought. I asked a friend, he told me he did it in India in Rishikesh. I searched for a school in Rishikesh, and after viewing 2-3 schools I decided to go for Vinyasa Yoga school. After a few email exchanges, I was granted to come for the March session. Immediately I applied for a visa, in 2 days it was approved. Bought my flight at a reasonable price. Got an upgrade for business on the flight here. Things just clicked.
Once my training started I found that for the first 2 weeks Ashtanga and Vinyasa practice was pushing my limit way beyond maximum, especially because I don't have a longtime practice. But after 2 weeks as my body became more fit, I could enjoy the practice more and focus more on the breathing. I felt I was more present during my practice. I loved the different pranayamas we did in the morning. If I am to take just one pranayama and use it, I felt the benefits of doing Nadi Shodhana every morning. I felt my mind more balanced and at peace. Another topic that opened my eyes was Indian Philosophy, it is a release just to realize that you are not your body and your mind, but those are merely tools that the soul uses,  and Bhagavad Gita is a book that I wish I had read much earlier, yet perhaps I was not ready in the past. There is a lot more talk about how my experience here changed me, yet some things are better left unspoken, yet felt through every pore, through every layer of the Being. 
Now as I'm writing these words we finished the training and we extended our stay due to Coronavirus lockdown for more than a month, and I have to say it has been an amazing month, full of friends and discoveries. Lots of sunrises from the rooftop. Sharing and learning new skills. Amazing staff that helped us and made our stay an amazing experience. I felt more in union with everything that surrounds me. My body is in one of my best shapes and I love it. I learned to let go of more to any state of anxiety and nervousness. I feel my mind calmer and in charge, and less jumpy. I feel more connected to God, and praying more.
Best Yoga School in Rishikesh || 100 Hour Yoga Teacher Training in Rishikesh || 200 Hour Yoga Teacher Training in Rishikesh || 300 Hour Yoga Teacher Training in Rishikesh || 500 Hour Yoga Teacher Training in Rishikesh || Online Yoga Teacher Training Course || Best Yoga Courses in India || 100 Hour Yoga Teacher Training in India || 200 Hour Yoga Teacher Training in India || 300 Hour Yoga Teacher Training in India || 500 Hour Yoga Teacher Training in India